Join Us for Our
Spring Market Faire
Tour of Kitchens
Monday, April 29, 2019
10 a.m. to 2:45 p.m.
Visit 5 homes with great kitchens!
See a cooking demonstration by a local chef, and get a taste and a copy of the recipe!
Browse for gifts from local women-owned shops!
Purchase tasty homemade goodies!
Register to win a lovely raffle basket!
Tickets are $25 each. They are available at all Christmas Tree Hill Stores in York, and at Futer Brothers. They also are available by mail by sending a check and a self-addressed, stamped envelope to:
Lois Conaway 1525 Fifth Ave, York, PA 17403
Each ticket gets you one free raffle ticket. Additional raffle tickets are $1 each, or 6 for $5.
All proceeds benefit local scholarships, the Young Women's Leadership Conference, and the AAUW Fund.
For full information, see the flyer.
---
On the Hill! 2017 AAUW Lobby Day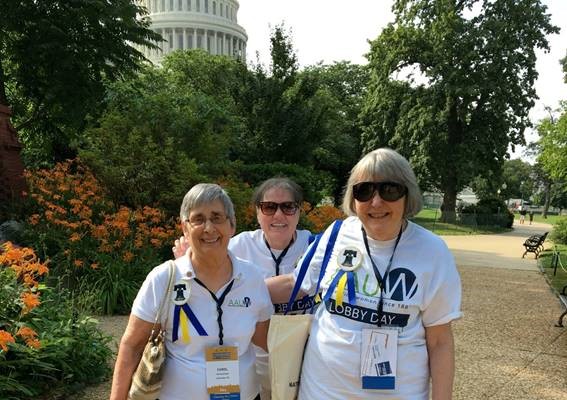 Carol Heinzelman, Diane Hain (from Hershey) and Betty Hooker on Capital Hill in Washington, D.C.
---
Deeper in Debt
Student loan debt is now a $1.3-trillion problem burdening 44 million borrowers. Experts are talking about the effects of student debt on the economy, but they aren't talking about its disproportionate effects on women. AAUW takes a close look at that oversight in the new research report Deeper in Debt: Women and Student Loans. Register for the livestream launch event on May 24 or be the first to know when the report is released.
Read more.
---
YORK BRANCH AAUW'S UNDERGRADUATE SCHOLARSHIP WINNER 2017

Pictured above is Jessica Cable, our 2017 recipient of the AAUW York Branch Undergraduate Scholarship. A local graduate of Central York HS, she now mayors in early elementary and special education at York college of PA. Inspired by a YCP sponsored trip to serve at an orphanage in India this winter, her plans include teaching, a graduate degree, and working with non-profit organizations to help people with disabilities reach their full potential.

YORK BRANCH AAUW'S
GRADUATE SCHOLARSHIP
WINNER 2017

Pictured above is Sarah Fuller to whom York Branch AAUW recently awarded a $3000 scholarship for graduate school education. A graduate of Elizabethtown College, Sarah plans to attend Columbia University this fall to study International Education and Policy Development. As she has taught, researched, and interned abroad, she sees a dire need for advocacy for educational policy that supports women and girls.
2017-18 AAUW York Branch New Board Members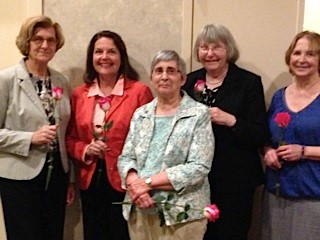 Pictured from left to right are Flo Kachurak and Kay Roddy, Membership Co-VP's, Carol Heinzelman President, Betty Hooker, Secretary, and Phyllis Sword, Assistant financial Officer.
---
The Simple Truth about the Gender Pay Gap
You've probably heard that men are paid more than women are paid over their lifetimes. But what does that mean? Are women paid less because they choose lower-paying jobs? Is it because more women work part time than men do? Or is it because women have more care giving responsibilities? And what, exactly, does gender bias have to do with paychecks?
AAUW's The Simple Truth about the Gender Pay Gap succinctly addresses these issues by going beyond the widely reported 80 percent statistic.
Read more.
---
Know Your Rights: Sexual Harassment and Sexual Assault under Title IX
Title IX of the Education Amendments of 1972 is a comprehensive federal law that prohibits sex discrimination in education. It covers women and men, girls and boys, and staff and students in any educational institution or program that receives federal funds. Local school districts, colleges and universities, for-profit schools, career and technical education agencies, libraries, and museums are all covered under Title IX.
Read more
---
AAUW Work Smart Salary Negotiation Trainings Now Available Across the U.S.
The AAUW Work Smart salary negotiation program that helps women hammer away at the gender wage gap will have greater reach this Equal Pay Day, due in large part to frustration with the status quo. Left on its own, the gender wage gap won't close for another 135 years, which is unacceptable and explains why numerous cities are collaborating with AAUW.
AAUW Work Smart has expanded beyond Boston, where it first launched just two years ago, to Washington, D.C.; Tempe, Arizona; and Long Beach, California.. Read more